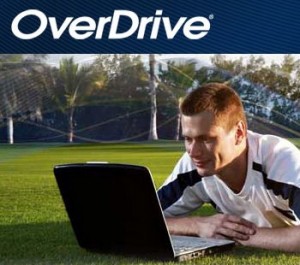 Digital publishing presents a huge challenge for public libraries. OverDrive is a service that proposes to address that need by offering a catalog of eBooks and audiobooks that libraries can offer online for checkout.
I heard about it from a few friends that work at a local library currently offering OverDrive books. According to my friends, it's far from an ideal solution; one of the more onerous limitations is that eBooks can only be checked out a certain number of times before the license expires.
However, even knowing that the licensing terms were pretty heinous, I still wanted to give the system a test run. I've spent a lot of money on audiobooks this year, so it's in my interest to find a cheap or free way to legitimately listen to more audiobooks.
In retrospect, I wish I'd just spent the money. I'll never get back the intensely frustrating hours of my life I spent just trying to download one audiobook from the service.
I've included a blow-by-blow of my whole tortuous experience after the break. Incoming rant alert!
After browsing through the (fairly limited) catalog of available audiobooks, I found one that piqued my interest and put it on hold. The OverDrive site asks you to enter your email address whenever you reserve something. When it's ready, you get an email and have to download the title within three days or your hold expires. So far, so good.
However, when I received the notification and logged in to check "My Reserves", nothing was listed. It turns out I had somehow managed to place a reserve without actually logging in to my account, so I couldn't check out the book. I had to reserve the title a second time while logged in and then wait for my first reserve to expire before the title became available.
When my reserve was finally ready, I opened up the OverDrive iPhone app and tried to figure out how to download the book directly to my iPhone. The "Get Books" link in the app directed me back to my library's website, which just said that the book couldn't be downloaded from the mobile version of their site.
I switched over to my Mac and opened up OverDrive's Media Console, but that just told me that the book couldn't be downloaded on a Mac because it was in the WMA format. Never mind that all I wanted to do was send it to my iPhone. I suppose it was too much to hope that the app would be able to play WMA files.
Luckily, I own a copy of Parallels, so I booted up my Windows 7 virtual machine and tried downloading the book from the Windows application. All this achieved was a mysterious error telling me that the book couldn't be downloaded until I updated the security in Windows Media Player.
Thoroughly chastened, I returned to Google and tracked down the updater link, opened it in Internet Explorer (shudder) and brought Windows Media Player up to date. I returned to OverDrive and finally managed to download the audiobook.
Once the files finished downloading, I clicked on the "transfer to device" button in OverDrive, foolishly believing I was now ready to go. I was quickly disabused of this notion, and told to install iTunes before I tried the transfer.
When I went to install iTunes, I first downloaded the 32-bit installer (rookie mistake!) before finally getting it right and installing the 64-bit version. After the several-minute installation finished, I tried the transfer yet again. Now I was informed that I needed to check the "manually manage music and videos" option on my iPhone before OverDrive could transfer any files. Grrrr.
I begrudgingly turned on the manual management option and finally got the transfer underway. It turned out this was more involved that simply copying the files over; instead, each protected WMA file was sent to iTunes and converted into an AAC before transfer. To make this process more entertaining, if I tried to do anything in iTunes while the conversion was underway, OverDrive yelled at me until I closed any offending notification windows.
After a good 15+ minutes of conversion, I finally had the audiobook on my iPhone.
I thought it was particularly telling that OverDrive had to convert the DRM files to DRM-free versions to make them work with my iPhone. Once converted, the only "protection" implemented was that the files were only stored on my iPhone, and would be removed if I did an auto-sync. However, it was a trivial matter to download Senuti and transfer the files back to my iTunes library so that I could turn off manual management.
In the end, it took 2+ hours of my life to get one audiobook from OverDrive. It is abundantly clear that the entire system was designed by people who don't actually understand how libraries work. Never mind making it easier to get books into the hands of a reading public. Preventing piracy was their number one concern, with user experience a far distant second.
OverDrive has miles to go before it even begins to approach the simple convenience of walking into a library and leaving with a book in your hand. Unfortunately, I don't know if libraries will ever be enough of a priority for publishing houses to fix the experience. I know I'll be sticking with Audible and good old-fashioned books on CD until they do.